---

The 41st International Emmy Awards was held on November 25, 2013 at the New York Hilton Hotel.
SHOWgrins eBook was included in the prestigious 2013 International Emmy Awards eBook and Audio VIP GIFT BAG presented to industry decision makers, celebrities and media. It was part of the Amazon's Kindle Fire HD preprogrammed contents.

---
---
The Moisture Seekers, a Sjogren's Syndrome Foundation publication, selected Betty for the "I Stood Up..." featured story in the June 2013 newsletter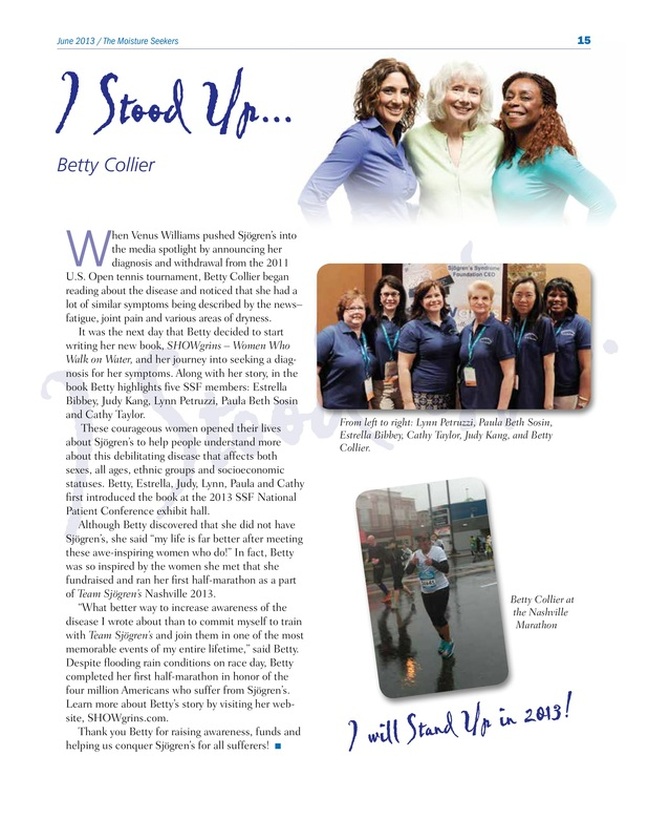 ---
---
Five Star Book Review by Readers' Favorite: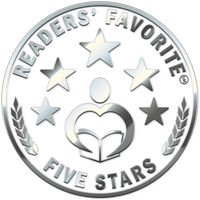 SHOWgrins
is a touching tale of author Betty Collier's journey to find out if she has Sjogren's syndrome. Along her quest to find answers for the symptoms afflicting her, she looks for inspiration from other women who have battled the disease. Against the backdrop of tennis star Venus Williams' public announcement that she has the disease, Betty Collier takes a look at the lives of five women who have all managed to live amidst the difficulties caused by Sjogren's syndrome.
The book is a touching and inspiring
collection of tales that give readers an idea of what Sjogren's syndrome is and the impact it can have on those who have it. The author, Venus Williams and the five women featured in this book have all had their lives changed due to an encounter with this strange medical condition. The book is easy to read, with a flowing narrative that fully shows the author's storytelling abilities. The stories themselves are emotional roller coasters. As a reader, I felt the women's pain, their frustrations, their hopes and their determination to push against the pressure Sjogren's syndrome has put in their lives. All of their stories are well-told by the author, portraying their life before their diagnosis, as well as the challenges they faced when they knew they had the condition. Their bravery and the love and support of their family against the medical, social and mental stress Sjogren's syndrome can bring are inspiring and heartwarming. Estrella, Judy, Lynn, Paula and Cathy have all managed to make the best of their situation, and have dedicated their lives to promoting awareness of this condition. Their stories, together with the author's own journey, inspire not only those with Sjogren's syndrome, but everyone who has had life-changing challenges and problems.
Reviewed by Eduardo Aduna for Readers Favorite
Click here to read all 4 reviews posted on Readers' Favorite website
---

---
Front Page News - "God leads, Collier writes"

God leads, Collier writes
Bartlett author releases third book in series
By Brian Bloom, Regional Manager
A journey of a thousand miles begins with a single step. - Confucius
Bartlett native Betty Collier has other plans. She was a nurse case manager, married to her middle school sweet heart. She had two teenage boys, lived across the street from where she grew up. This was the life she always dreamed of, until she dreamed again.
"I guess you could say I became a writer overnight," Collier said about a career that is three books in and a fourth on the way.
"It was after we built this home," she said, looking around her comfortable two-story brick in Bartlett. "I had been given a DVD of pictures of the construction from a friend and that night I dreamed about a book. I saw Jesus with this house in his outstretched hands giving us this house. That morning I sat in front of a blank computer screen and just started writing."
Working from home doing worker compensation management for GENEX Corporation, Collier used the same organizational skills instilled in her by balancing a job and a family into writing her book "Living inside the Testimony."
"The book's about what's happened to me, to him (her husband) to us," she said of her initial writing. "I thought it would be about the this house. I didn't realize until I started writing the book that it would be about our lives."
Collier, a long time member of New Covenant Outreach Ministries, said she was inspired by God. "He directed me what to do," she said. "I wrote night and day." A little over a month later and Collier self-published her book with Cross Books Publishing, a division of Lifeway Christian Stores, in 2009.
"I thought that was it." Collier said. "Then I got a surprise call from an online
(continued on page 7 in the paper per next picture below)

(continued from front page)
radio talk show and I started working with them."
Collier's show interviewed women and among them was one woman whose story segment was titled "Angel in my Room."
The story was about the death of the woman's newborn who visited her as an angel. Collier knew the story well as the guest was her aunt, Lillie Hopkins.
Hopkins approached Collier to write her entire story.
"I had to pray about it," Collier said.
"Angel in my Room" is now available at the Family Christian Bookstore in Bartlett.
From there, Collier knew writing was a calling she couldn't ignore.
"I realized there's more to it," she said after her first two offerings. "Living inside the Testimony" is now evolving into a series of books.
"My goal is to share the inspirational testimony of other people," Collier said. "To inspire and encourage other people. People are looking for help," Collier continued. "Some of the stories are sad, some are joyous but different people can relate to certain people in these books."
Collier's most recent release, "SHOWgrins" has her reaching well beyond the boundaries of Bartlett and her inspiration came not from a member of her family but from a well-recognized celebrity.
Within the 96 pages, Collier tells the stories of five women suffering from Sjogren's, a debilitating and often misdiagnosed illness that manifests itself in dry eyes, dry mouth, fatigue and joint pain, among other symptoms.
"I was reading an article about Venus Williams on my computer," Collier said and it talked about her having to pull out of a tournament because of her illness. I kept digging and digging until I found the list of symptoms."
Collier realized she shared nine of the 13 symptoms.
"The very next day, I decided to write a book about it," she said.
Long wondering about a number of issues she faced regularly, Collier talked of her journey through medicine to find answers. Sjogren's seemed to be a key.
Estimated to affect four million Americans, the Sjogren's association says it is the second most common autoimmune disease that Americans suffer.
"Many doctors believe patients complaining of the symptoms are either depressed, hypochondriacs or mentally ill," Collier said.
In her book Collier learned of five women from New York to California, each with their own story. She wrote of the struggles one of the greatest women tennis players of all time faces each day and her own progression through diagnosis.
Proceeds from the book will go to the foundation in hopes of finding a cure for the disease.
In April Collier will take another step when she gets to meet the subjects of her stories. A national conference in Bethesda, Maryland will bring them all together for the first time. A couple of weeks later Collier will show her stamina when she competes in the Country Music Half Marathon on a Sjogrens team.
"If my whole thing was to increase awareness, to raise funds, to find care and treatment options why couldn't I at least participate in that (the race) as well?" Collier asked herself. "I thought if they (Sjogren's sufferers) could train, surely I can train too."
"I am a nurse by profession, an author by passion and a story teller by the Grace of God," she said. "I don't know what the next story will be but there will be another story and another story."
Collier will have a book signing at the Barnes and Noble at Vanderbilt University at the West End and 25th Avenue following the race.
Check your local bookstores for copies of her works.

---
Things changed on February 2, 2015. Read about it here. You'll see why perhaps there needs to be a new ending for the book.