The first line in my book reads: "Who wouldn't want to be like Venus Williams, one of the most admired professional athletes in the world?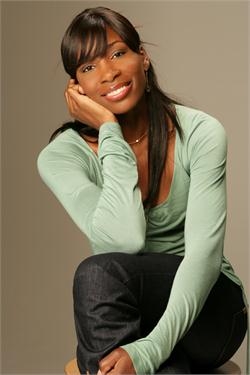 After I read the headlines that Williams pulled out of the U.S. Open tennis tournament in 2011 because of Sjogren's, I discovered I had many of the same symptoms. This began my quest to get diagnosed and prompted me to start writing this book the very next day after reading about her. I knew that I wanted to share the journeys of five other remarkable women battling this incurable illness, but I had no idea that my first conversation with SSF CEO Steven Taylor would lead me to the five fabulous Sjogren's patients featured on my celebrity panel in the book.

My passion for increasing awareness of this silent disease took me beyond the inspirational stories I wrote about to the rain soaked streets of Nashville, TN where I ran with Team Sjogren's on April 27, 2013 in the Country Music Marathon and Half Marathon. What better way to increase awareness of the disease I wrote about than to commit myself to train with Team Sjogren's and join them in one of the most memorable events of my entire lifetime. When I crossed the finish line, it was the culmination of what I had begun in September 2011, when I first began my journey writing the book.

---
---
Now it's time for me to answer my own question... Yes! I want to be like Venus Williams.

In addition to being a tennis superstar, Venus Williams is also the Honorary Chairperson of the Carroll Petrie Foundation Sjögren's Awareness Ambassador Program. I
f my desire to share the
Sjögren's
stories of the fab five on the celebrity panel as well as my own journey to confirming my diagnosis inspired me to write this book and run the half marathon with Team
Sjögren's
, I can't stop with that. I'm also a
Sjögren's
Ambassador, and I am committed
to meeting the goals of the SSF.
Awareness Ambassadors are on the front line for helping the Foundation achieve its 5-Year Breakthrough Goal: "To shorten the time to diagnose Sjögren's by 50% in 5 years." It will only be achieved by volunteers helping to educate their community and local medical professionals about Sjögren's and its various manifestations. Only when Sjögren's is recognized as a serious disease will patients receive the care needed.
"By becoming an Awareness Ambassador, you will be helping to increase awareness of Sjögren's – a very important cause I have been working on since I was diagnosed in 2011. Please join with me as we make a difference in how Sjögren's is perceived in both the medical field and general public." - Venus Williams
Awareness Ambassador's help by talking about Sjögren's to:
Community members
Local doctors
Local media outlets
In addition to being a Sjögren's Ambassador, I am also increasing awareness by helping to raise funds and donating proceeds from book sales to the SSF. Please help by purchasing a copy of my book directly from the SSF website at this link.
If you would like to make a donation to the SSF, please click here. All proceeds are tax-deductible and go directly to the SSF